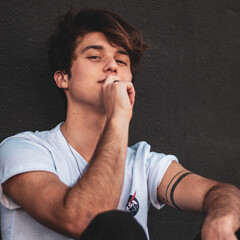 Skylar Thomas
Artist / Animator / Developer
Los Angeles, United States of America
Summary
My name is Skylar Thomas and I build 3D worlds and the characters that inhabit them. I live for highly detailed, beautiful art & animation infused with code that brings the work to life.
I have 7 years of experience in app development spanning C#/Unity, Unreal, Swift for iOS, and JS and 8 years working across the Adobe suite and the 3D pipeline including Blender, Maya, Substance, and Cinema 4D.
Let's build something.
Skills
2D Animation
Concept Art
Concept Design
Environment Design
Illustration
3D Animation
Game Development
Character Design
Character Animation
Vector Illustration
Pixel Art
virtual reality
adobe
voxel
Software proficiency
Experience
Freelance artist at Troublemaker Technologies

LA, United States of America